Before I move and leave here, I'd like to see some more things in this area.
Some time ago on a weekend, the weather forecast was good and I decided that I'd pay Frankfurt a visit. It's about half an hour by train away.
A colleague of mine was so nice to send me a few recommendations, complete with links to Google maps. Also there was going to be a museum night that day.
Frankfurt really isn't that big, but it likes to act as if it was. It does have one of the biggest airports in Europe though and is the financial capital of Germany. It likes to call itself "Mainhattan" because of the skyscrapers, Main being the river running through it. Other than that I never considered it to be an attractive city (I also never heard anyone say that about it).
But it's certainly good enough for a half-day city trip.
I started out at Williy-Brandt-Platz where the European Central Bank is located.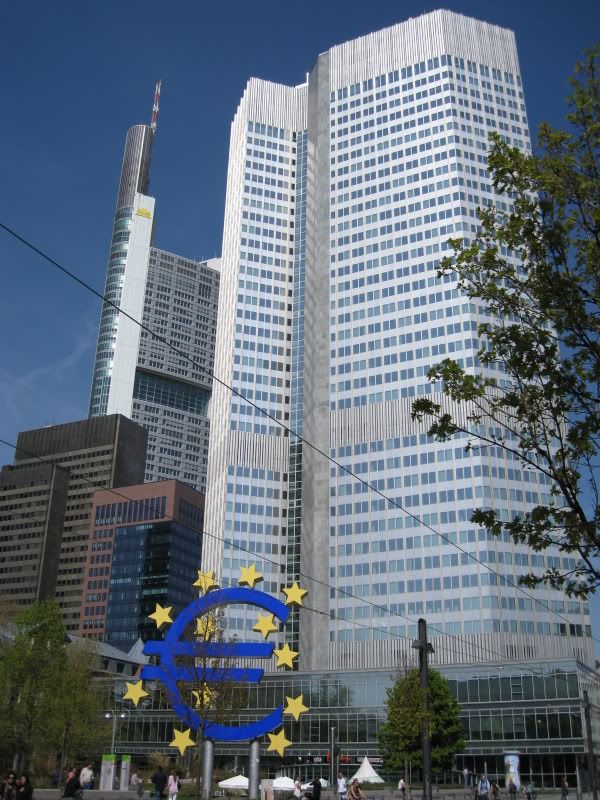 From there I took the paths through a little park towards the old opera. The park provides a nice view, the trees mixing with the tall skyscrapers to each side, seatings here and there, and the occasional statue (like the one of the German poet Friedrich Schiller).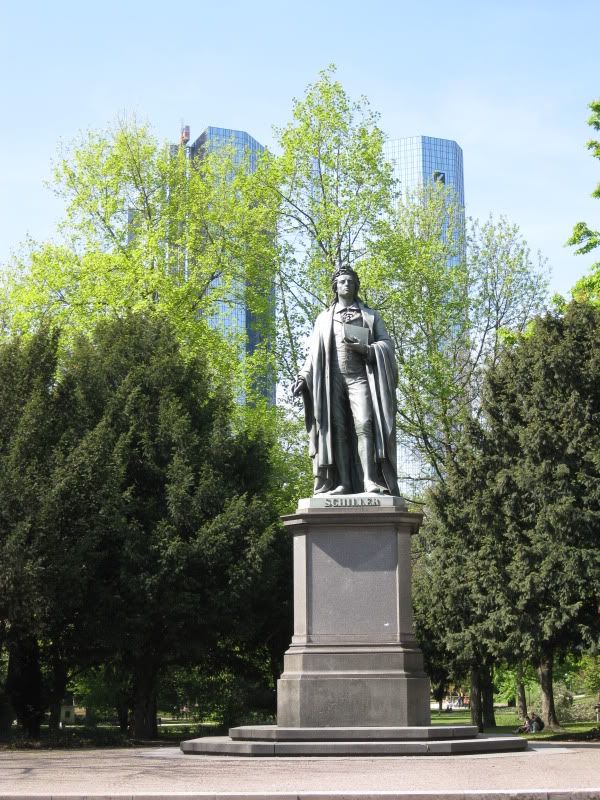 At the end of the park, on the right hand side is a a round tower with blue glass exterior called the Maintower. It has the only public viewing observatory in Frankfurt and it costs 5 € to get up there. I accidently got out of the lift too early (there's a restaurant there, too) and had to find my way up to the platform through several lift and stairs. I was rewarded with a great view over the city.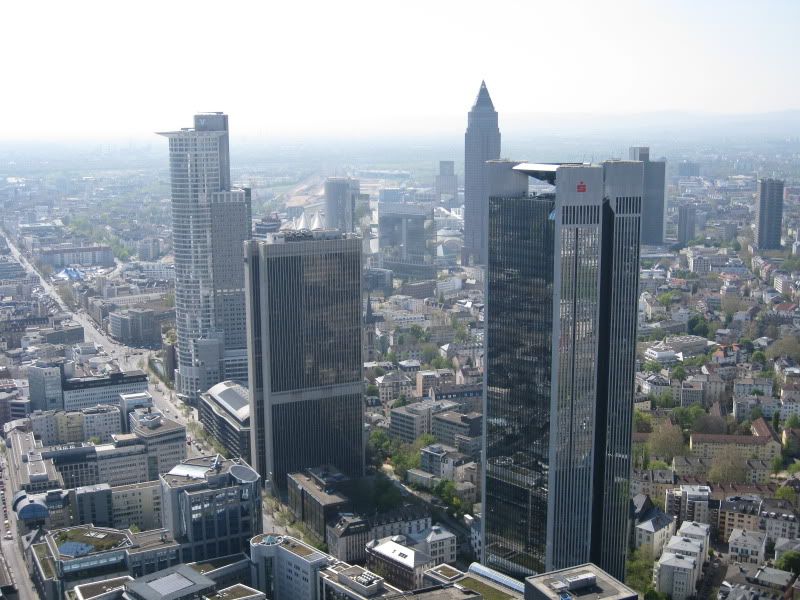 After that I went back down and toward the Old Opera. I always wanted to go there for a concert, but I'm afraid I won't make it anymore before I leave. It's a beautiful old building from 1880, but unfortunately it's currently being renovated.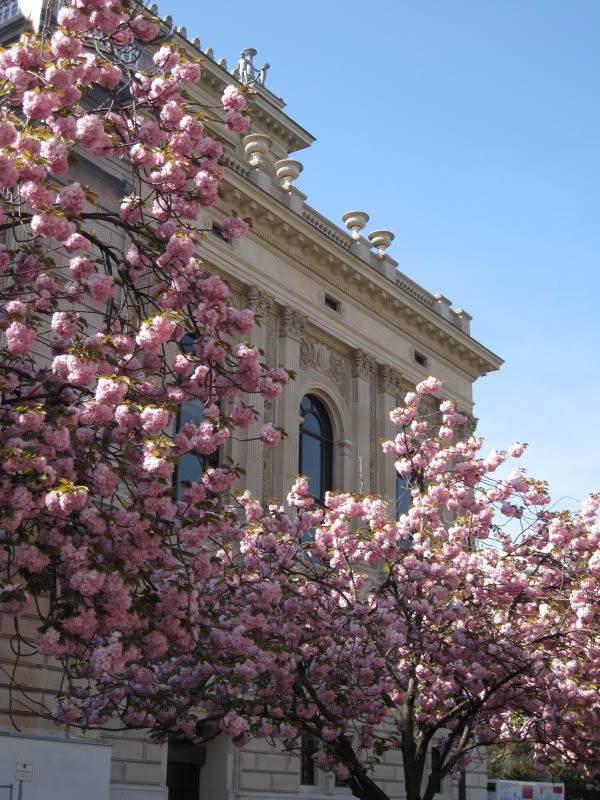 Close to the Old Opera is the rather new Opernturm, another skyscraper with a bright stone façade. On ground level there's a store called ManuFactum. Their slogan is "They still exist, the good old things" and they sell... well, all kinds of things, from dinner mints and garden tools to perfume and waxed jackets. They also have a little snack bar attached where you can eat sandwiches (I would have liked one, but they were too expensive).
From Alte Oper I caught the subway to Merianplatz. My colleague recommended a stroll along Berger Strasse. When I got out I wasn't sure in which direction I should go, but I instinctively chose the right one. To each side of the road there are lots of fascinating little stores, selling design furniture, fancy ice cream or yoga equipment.
I got myself some ice cream and finally arrived at Bethmannpark. The park itself isn't anything special, but it contains the Garten des Himmlischen Friedens, a beautiful Chinese garden. As the weather was great of course there were a lot of people there, and I admit I wished I could enjoy the garden when it's a little more quiet. There were kids running around, and a woman explaining her listeners how the pavilion is charged with chi by a group practicing qigong in it, and on a fence sat a young man drawing the garden. For a moment I considered approaching him and inquiring about his art (I was curious to see the drawing, and yes he was kinda cute, too), but then decided not to interrupt.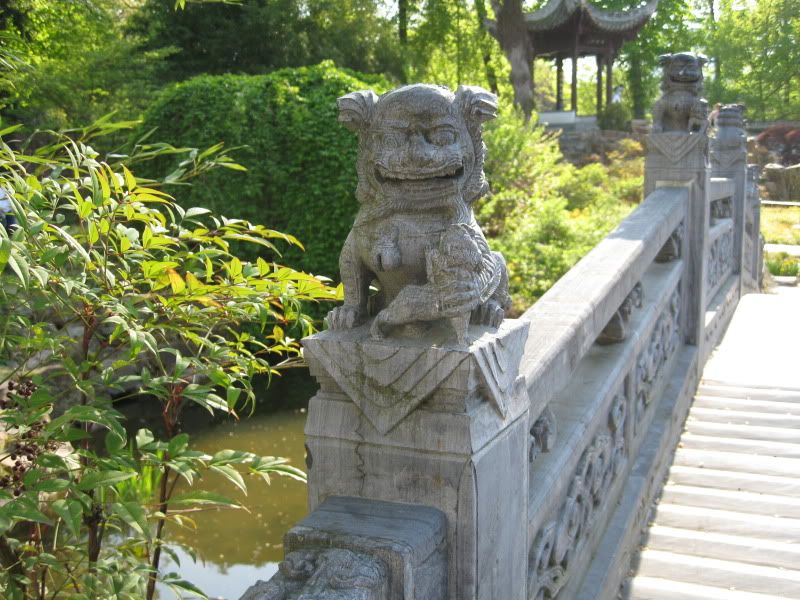 From the garden I took the tram towards the Konstablerwache where the main shopping street called Zeil starts. It's a shopping street like every other, not particularly nice looking, but you can find all kinds of stores there of course. I was too tired to do a lot of shopping. But I got myself some cheap ballerinas because my feet were very tired and I needed a little change to the Chucks I was wearing.
What I wanted to see at the Zeil was the infamous new mall MyZeil. The stores are not interesting, although there's one of only four Hollister stores in Europe - you actually have to queue just to get in (I didn't)! The most fascinating and interesting thing about MyZeil is the architecture. In the front glass façade there's a big hole with a tunnel bending inwards. It is very hard to describe and nearly impossible to catch on photos, too.
After walking through the shopping street from one end to another, I needed a little break and thought about what to do next. As I said there was a museums night that night, but I was really tired and had a headache kicking in. I decided to take the subway to the Museumsufer where most of the museums are located along the bank of the river Main, stroll along the riverside to another place I wanted to see and then decide about what to do.
Arriving at the first museum made it clear that it would be packed with people and there'll be much standing in lines, so I decided it wasn't worth it to drag myself through this. Along the river banks were many people, families, lovers, groups of friends, having a picnic or just sitting around and enjoying the warm evening. I admit it made me feel a little lonely, but I tried to also enjoy the beautiful sunset nevertheless.
I finally arrived at the Gutleutviertel where there's an old harbour that was made into a modern residential area. It's nice there, reminded me a lot of Copenhagen actually.
There's another tower there, too, the Westhafen Tower, which is called "das Gerippte" by locals - after the traditional glas in which the local specialty Äppelwoi (apple wine, a kind of cider) is consumed.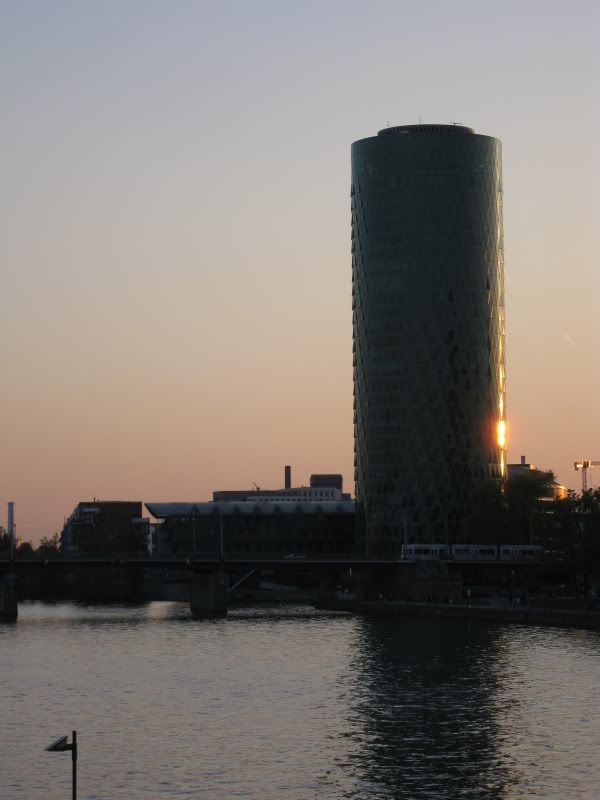 From there I walked to the main station and took the train home.