On that Saturday I had to get up earlier than on work days.
I had three more flats to look at and then the plan was to buy a newspaper (since my free trial hadn't arrived yet) and make some calls.
The first flat had no kitchen and a boiler. Otherwise it was really good, enough room, nice surrounding area. I really thought about it.
I met my parents there and we went to the next viewing with the car.
The next one was amazing! It was in a great area, in the backyard in a little house. It had nice two rooms, a nice bath, a little terrace. The owners lived on the second floor, obviously wealthy people.
Unfortunately with 710€ per month it was a little above the limit I set myself. But it was tempting.
They wanted a self-disclosure containing questions about my occupation, musical isntruments I play, pets, warrants and refrences. Wow...
Third place was out of question. The current lodger was very open about that. Washing mashines were only in the cellar, and only two for the whole house. The kitchen and bathroom had no way for venting, it would all go into the living room.
After that my parents and me had a little break in a café and had some cake. We got a newspaper and I was calling all numbers that sounded promising. I managed to get three more viewings that day.
One of them was in a really promising surrounding. Very close to a concert venue and a park; I would have liked to live there. But the flat... It was underneath the roof again, had a boiler and gas heating in only one room and again no room for a washing mashine. It generally looked very old. I just didn't like it very much.
I already nearly gave up hope for the day. I was thinking that I either had to take the first one, or pay for the second one or go looking once more.
But the last flat we looked at was (nearly) perfect! Top floor, two rooms, nice bath, no boiler, a little balcony, storage room. It only has a kitchenette and there's no washing mashine in there now, but the owner said I could install one. The area is great, nice houses, shops close by and a bus stop in front of the door from which the bus takes 15 minutes to my future work place.
We were so happy to finally have found the right place. It turned out that the owner worked for the company I'll be working for for 30 years. He said I should sleep one more night and then say whether I want it, but I was already sure.
So on Sunday I called and went there once more the next week to sign the contract.
I tried to be happy but I still worried about the kitchen and the washing mashine. When I was there it turned out that I probably have to buy half of the kitchen (sink, fridge, etc.) but I can take the rest of what is there for 1000€, including a microwave and an exhaust hood. I have no idea what these things cost, so I said ok.
I was feeling somewhat down on the way home. I was worried about the kitchen and the washing mashine and the fact that I have to live there at least 2 years (it's in the contract). My parents calmed me down a bit. I probably would have had to buy a kitchen anyway.
The balcony: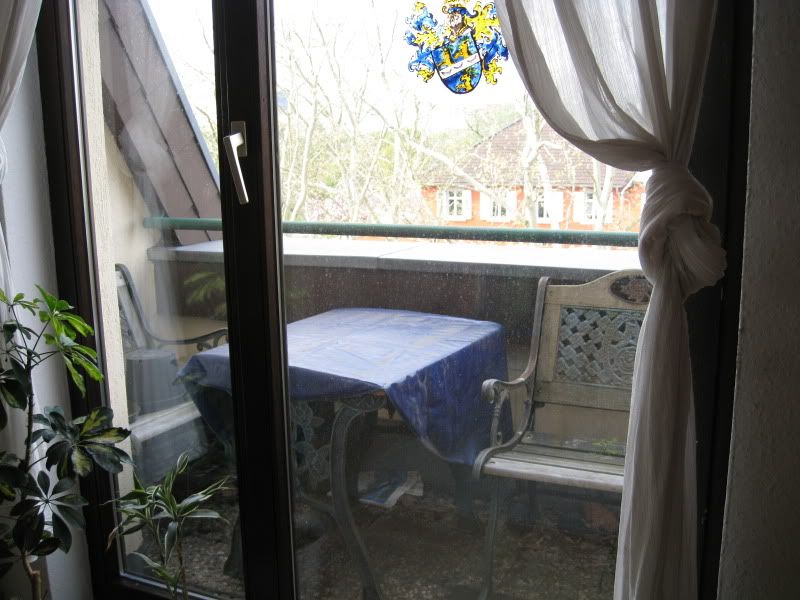 The kitchenette as it looks now: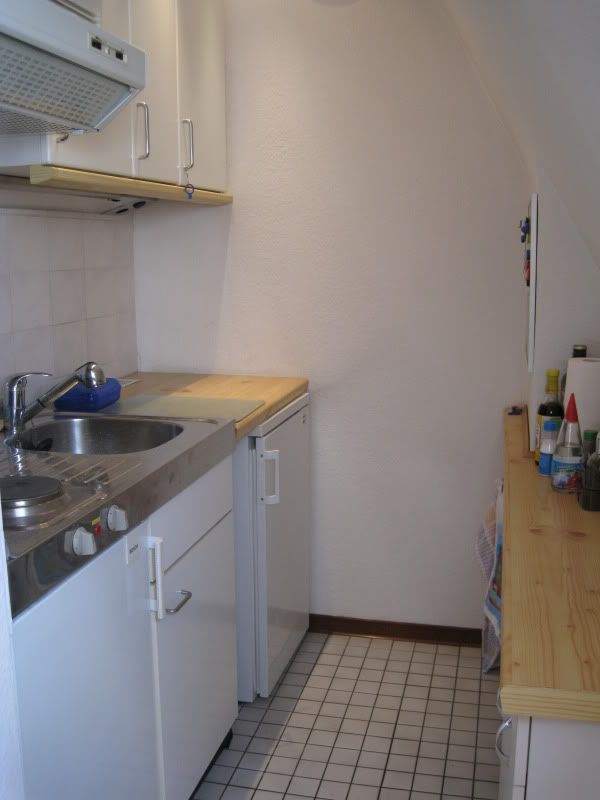 I am sure this will be a nice place to live and I'll be happy there. But I'm not really happy yet. There's still a lot of organizing to do, getting a kitchen, moving the stuff, installing the washing mashine. *sigh*
I'm looking forward to the time when all this is over and settled with. I didn't quite think that moving was such a big deal, it somehow wasn't when I last moved (we were really, really lucky with this flat I think). Good thing I didn't know that before I chose to change jobs, I might not have done it.